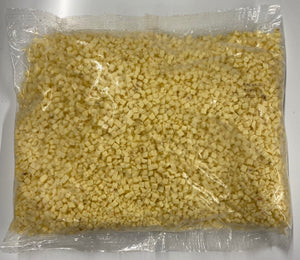 High Temp Pepper Jack Cheese - 1/4" Diced
Regular price
$30.00
$0.00
Unit price
per
High temperature pepper jack cheese diced into 1/4" cubes.
Recommend usage: 1lb of cheese per 10lbs of meat
5lb Bags
Case (4 x 5lb Bags)
Important Shipping Notice:
High temperature cheese is shipped cold in thermal shipping coolers with gel ice packs.  It is important for the cheese to remain cool during the shipping process.  To ensure that you receive the highest quality product possible, high temperature cheese orders placed after Wednesday may not ship until the following Monday.  This reduces the duration of the shipment by 1-2 days by ensuring that it does not stay in a USPS or UPS facility over the weekend.  This is evaluated on each order as some customers will be in closer proximity with reduced shipping times.  Please do not hesitate to contact us with any questions.
---